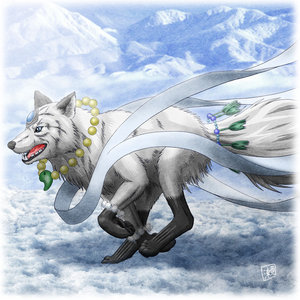 I walk in silently and howl in the wind My king would arrive soon .
I then perked my ears as i approached the thrones . I heard a giggle "Milana? "i whisper in the wind
Yes it was her and i needed her "Milana! Please Come To Me ....Come To Me"
I then leaped up into my throne and waited ....She would come ......She is loyal and sweet.


_________________
Boom, Boom, Boom.......?
_&&_i skipped intot he palace, my bare feet touching the ground softly i walked to te queen and knelt before her. i hugged her and whispered "hello, queenie!"
"Hello Milana "i say and wrap my tail around her giving her a hug."I wish you would help me with land and help me name your new land"i say "as a gift i am giving you a paradise"
i smiled and clapped my hands "yay!" i thought for a bit "i would ike my land to be named Annar. it is a warm southern jungle. with a tropical beach. " i sighed "the land of peace"
"Ok Milana Annar shall be your land."she mumbled.
Suddenly a crystal ball appeared infront of me and Milana .I whispered Annar Land of peace
and the crystal ball glowed bright blue then changed to Purple it the in a burst of blinding light disappeared
"Your land is here .....Please let me know if there is anything you need my dear."

_________________
Boom, Boom, Boom.......?

---
Permissions in this forum:
You
cannot
reply to topics in this forum